Suburbia: Collector's Edition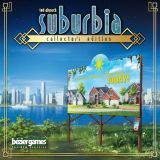 Bézier Games has announced a Collector's Edition of their city building game, Suburbia.
This version of the game will include the two Suburbia expansions Suburbia Inc and Suburbia 5*, and the two mini expansions "Essen SPIEL" and "Con Tiles", and a new expansion aswell, "Nightlife" which like the name suggests, will focus on locations are that are more active in the evening hours.
The game has been redesigned with 3D artwork, which will be printed on much larger tiles than the regular version.
---