Biblios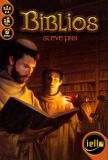 One could say this is a perfect filler game (You know, the kind of games you play between games or when you are waiting for someone. Or perhaps as a the last game when the hour is getting late).
-One would be right.
Biblios takes about 20-30 minutes to play including set up, it's easy to teach, packs a great amount of replayability, and appeals to newbies and hardcore gamers alike.
---
7 Wonders: Armada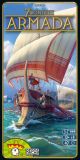 Overview
This 7 Wonders expansion allows you to build fleets of Ships to conquer the seas. New Armada and Island cards enrich the game and increase the interaction between players.
The flow of the game is slightly changed, but the victory conditions remain identical to those of the base game of 7 Wonders.
At the beginning of each Age, the players each get a hand of 8 cards. They will play an extra card during each Age. At any time a Red, Yellow, Green, or Blue card is played, the player will be able to move the ship of the same color one space, and access to various advantages.
---