Biblios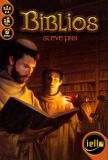 One could say this is a perfect filler game (You know, the kind of games you play between games or when you are waiting for someone. Or perhaps as a the last game when the hour is getting late).
-One would be right.
Biblios takes about 20-30 minutes to play including set up, it's easy to teach, packs a great amount of replayability, and appeals to newbies and hardcore gamers alike.
---