Res Arcana expansion "Lux et Tenebrae"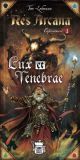 An expansion for Thomas Lehmanns Res Arcana is in the works. It's called Res Arcana: Lux et Tenebrae and is due sometime later this year, probably arriving before Christmas.
Description from the publisher
Res Arcana: Lux et Tenebrae adds 4 new Places of Power, 12 artifacts, 4 mages, 4 monuments, and 2 magic items to Res Arcana. It also extends the game to five players, adds scaling rules for fewer players, and introduces two new things: scrolls and Demons.
Little more is known right now, but be assured that we will update this article as more info emerges.
---