Letters from Whitechapel (2011)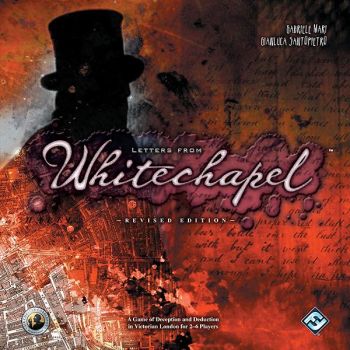 Remember what I said about detective games and that they dominate the one vs all genré?
Well, this is one of them, and dare I say the best one; Letters from Whitechapel, where one player gets to play Jack the Ripper, and the other policemen trying to catch him before he claims 5 victims.
The scene of it all is, of course, the Whitechapel district in London 1888, with its crowded and smelly alleys, shouting merchants, dirty children covered in rags who run through the crowd and beg for money, and prostitutes, -all laid out on a beautiful board. Jack moves through the city with hidden movements, and the rest are trying to find him an/or his lair before he can kill again.
This should be played at a very high pace, and if so, it's a very intense and unique gaming experience that every gamer should try out, but, obviously, the theme might not fit the younger crowd.
Designer(s): Gabriele Mari and Gianluca Santopietro
Playercount: 2-6
Length: 60min
Price: 45$

---