Die Hard: The Nakatomi Heist Board Game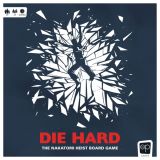 The publisher USAopoly has annouced a board game based on the classic movie Die Hard. They have this to say about the game.
Die Hard: The Nakatomi Heist Board Game uses one-versus-many, asymmetric gameplay to pit protagonist John McClane against others acting as thieves who are co-operating to foil the hero's plan, which is to save the hostages in the iconic Nakatomi Plaza high-rise. Movie buffs and hobby game enthusiasts will appreciate the game's distinct homage to the 1988 film, which packs rules and gameplay to the air vents with callbacks to Die Hard's most memorable scenes, characters, and events.
The game supports 2-4 players, and will take 60-90 minutes to play. The game is designed by Patrick Marino. At the moment there's little more information, but rest assured, we will keep you updated.
---