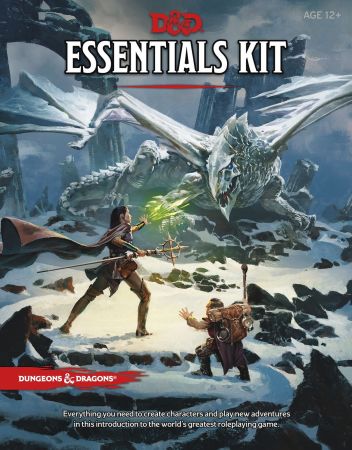 Another D&D product is the pipeline, this time a sort of completion to the D&D Starter Kit, in fact, it's published as a "sister set" to the latter. This spawn from the depths is called the Dungeons and Essentials Kit, and includes among other things, a new quest in the Phandalin region of the Sword Coast.
Included in the D&D Essentials Kit is
64-page "Essentials" rule book (including character generation)
Dragon of Icespire Peak, a new adventure by Chris Perkins, set in the Phandalin region, which can be played separately or along with Lost Mines of Phandelver.
4-panel landscape Dungeon Master screen
Double-sided poster map with the town of Phandalin on one side and the local region of the Sword Coast on the reverse.
Quest cards, NPC cards, and Magic Item cards.
Red crystal dice set with 2d20 and 4d6.
The Essentials rule book includes character generation with the four D&D Basic classes (Cleric, Fighter, Rogue, Wizard) plus the Bard, which is a nice addition to players who own the Starter Kit.
The rules will also include an edited version of the Sidekick NPC rules from Unearthed Arcana, to make the game more accessible, finding a party of 4 characters can be tricky, we know.
The Dungeon Master screen is thinner than the stand-alone screens, but still, a nice addition if you don't have one already (and honestly, if you already have DM screen in your collection you probably have a lot more stuff as well, which makes this whole thing redundant).
This kit will be released sometime this summer, keep your eyes peeled.
MSRP is $24.99