Athens: The Birth of Politics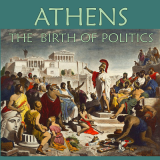 Up and Away Games had recently released Athens: the Birth of Politics, in this game players struggle with Persians, Spartans and their own people as they build their empire. Cooperate and compete to manage its fortunes, especially its politics, wars and government.
Players must constantly balance personal advancement against the security of the state. They trade and fight to build up the empire, vie for power in the Assembly and on the battlefield. But to grow in size and power only attracts the unwelcome attention of rivals, not just your opponents, but also foreign powers like Persia, Syracuse, Thebes and most deadly of all, Sparta.
---