District 9 the Board game
Weta Workshop, a movie-making firm studio, known for the Lord of the Rings trilogy, Avatar and Mad Max: Fury Road, has announced a District 9: The Board Game Kickstarter Campaign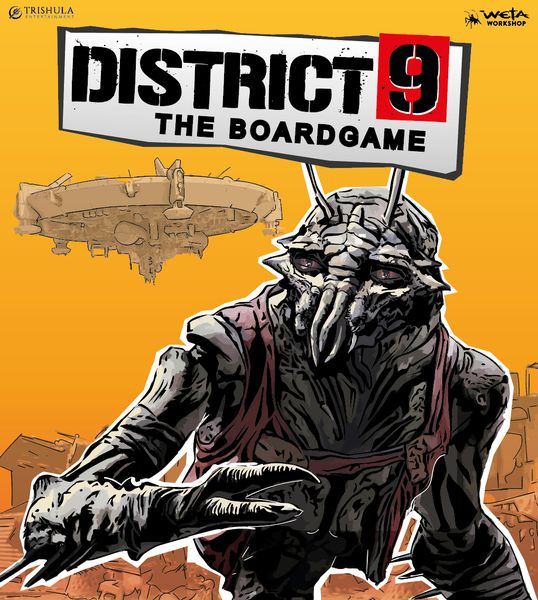 Posted 24 February 2019 by Jay Kay
THIS KICKSTARTER HAS BEEN CANCELED
Weta Workshop, a movie-making firm studio, known for the Lord of the Rings trilogy, Avatar and Mad Max: Fury Road, has announced a District 9: The Board Game Kickstarter Campaign. A movie, which they were very involved in doing:
District 9 was one of the most successful movies of 2009, nominated for 4 Academy Awards including Best Picture. Written and directed by Neill Blomkamp and produced by Peter Jackson, the film explored race relations through the language of science fiction. The guns, the aliens, the vehicles, the graphic language - the world of District 9 was designed and developed here at Weta Workshop.
The New Zealand based company has also released one board game before, GKR: Heavy Hitters, which has spawned a couple of expansions, so they seem to know what they are doing..
In the game, players takes on the roles of rivaling factions in the District 9 ghetto, trying to gather the most alien technology over a 3 days time, the same 3 days the movie unfolds. The players start at different edges of the District 9, and by moving units and taking command of resources, playing cards with different abilities, interaction with various characters from the film, try to salvage as much alien technology as possible.
As the game progresses, the unrest in District 9 escalates. Wikus' actions during the prawn evictions, and the ensuing man-hunt, drive the stakes higher and higher until the climactic finale: when Wikus dons the prawn mech suit for his heroic last stand. The player who has gathered most technology is the winner.
Sounds awesome? It dure does, and the different factions will of course have variable powers and the board will be modular. This means the replayability will be high as well. Player count will be 2-4 and it will take about 90-120 min to play.
Still not convinced? The game is very likely to contain beautiful miniatures and stunning artwork, given the quality of Weta's work, and all these factors combined makes backing this on Kickstarter a no-brainer, especially if you are a fan of the film.
The Kickstarter will begin in March 26th, and rest asured we will update this page with a link ASAP.
THIS KICKSTARTER HAS BEEN CANCELED
Pick up GKR: Heavy Hitters here.