Terraforming Mars rumours
Terraforming Mars: Turmoil, the 5th expansion for TM is underway, we have taken a look at 2 new corporations, the politics, and global events. Also, a Terraforming Mars Legacy game is being designed this very moment!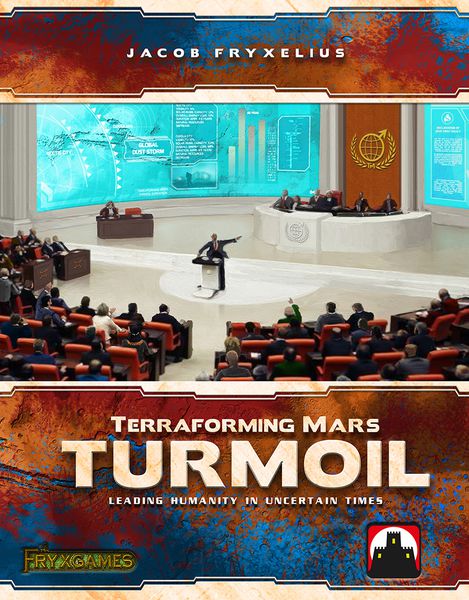 Posted 22 December 2018 by Jay Kay
Update 2020-06-02
There's a big box/deluxe box expansion/rerelease in the making. Check out the Terraforming Mars Big Box article.
Update 2020-04-01
There's a new game coming 2021: Terraforming Mars: the Dice Game check it out!
Update 2020-03-01
This article is a bit outdated as Terraforming Mars: Turmoil has been released a long time ago. The legacy rumors still exist and little is known still.
Meanwhile, enjoy Terraforming Mars, and don't forget to sleeve your cards.
Update 2019-04-07
Huge news for you TM fans! Terraforming Mars: Turmoil, the 5th expansion for Terraforming Mars is underway, and Terraforming Mars Legacy, like the title suggests, a standalone "Legacy" style of game set in the same universe is being designed in this very moment!
Terraforming Mars: Turmoil
The rumored fifth and sixth expansions of Terraforming Mars seems to be merged to one, to be released sometime after summer 2019, and testing of the expansion is in full swing. This expansion will be named Turmoil and the main focus will be events; Global Events, which will be in a separate deck, and cooperative projects, where one would assume the players work together to finish projects and share the bonuses, and perhaps share the penalties if it fails alá 7 Wonders: Babel. Another focus will be politics, which is discussed further down in the article.
New corps
There will be new corporations as well, a Jovian based one and a corp focusing on oceans, according to the rumors, the latter has now been confirmed. The latest data suggests there will be 5 new corps; Utopia, Terralabs, Lakefront Resorts, Pristar, and one more.
Fryxgames has released a sneak peek on two of these new corporations from Turmoil, Terralabs and Lakefront Resorts.

Terralabs starts with just 20 MegaCredits (MC), and one less Terraforming Rating, but all cards cost 1 MC instead of the normal fee. This means you could buy your whole starting hand for just 10 MC, and all the cards in your research phase for just 4 MC. Very powerful indeed. The corporation has Science and Earth tag.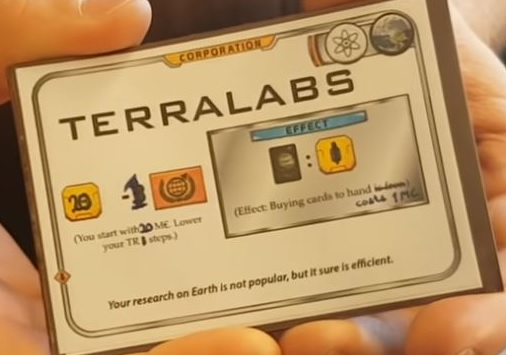 The other corporation we've seen is Lakefront Resorts, a much more classic type of corp. It has a Building tag, starts with 52 MC, and as the name suggests, has something to do with lakes/oceans; When any ocean is placed, this corporation increases their MC production 1 step. Nice. But the interesting thing about this corp is the other effect, that placing tiles next to water gives you 3 MC instead of the normal 2. So, lakefront indeed.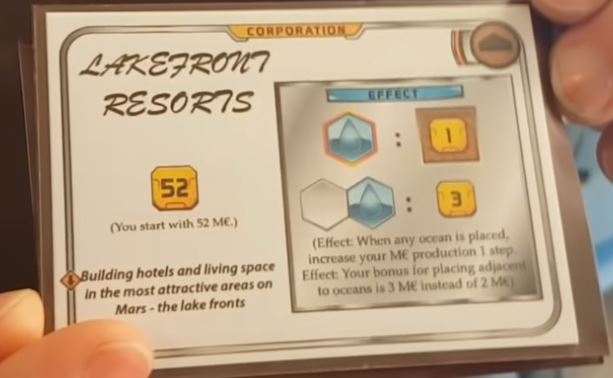 These cards are still in development, and Fryxgames emphasizes that they might change. Nevertheless, interesting!
Update 2019-03-30: 
Terraforming Mars: Turmoil will be the only expansion to be released in 2019.
It will be released via Kickstarter, and as of now, the campaign has ended

.


However, it will also be available at Essen 2019. This has been confirmed by Jacob.
May very well be the final big expansion to Terraforming Mars, but we have our doubts, it IS a cash-cow after all.
It will be an "expert" expansion, meant for more experienced players. 
Politics will be a major part of this expansion; Mars has established a Martian Senate, with different political parties with their own agendas.
Update 2019-04-07
Politics
The political aspect will take place on a new board, the Terraforming Committee Board. Here, players will influence the 6 political parties on Mars; The Mars First Party, The Scientists, The Reds, The Greens, The Kelvinists, and The Unit Party. Players will place their own delegates and vote for the different parties, placing 1 delegate is free, the rest cost 5MC each. All players have 6 delegates each.
When a party is elected as the "Ruling Party", they will impose their policies, which will result in various bonuses, penalties and rulings on the various mechanics in the game. Example: The Greens will give you 4MC each time you place a greenery while they are the ruling party. Each party also gives you different bonuses when they are elected.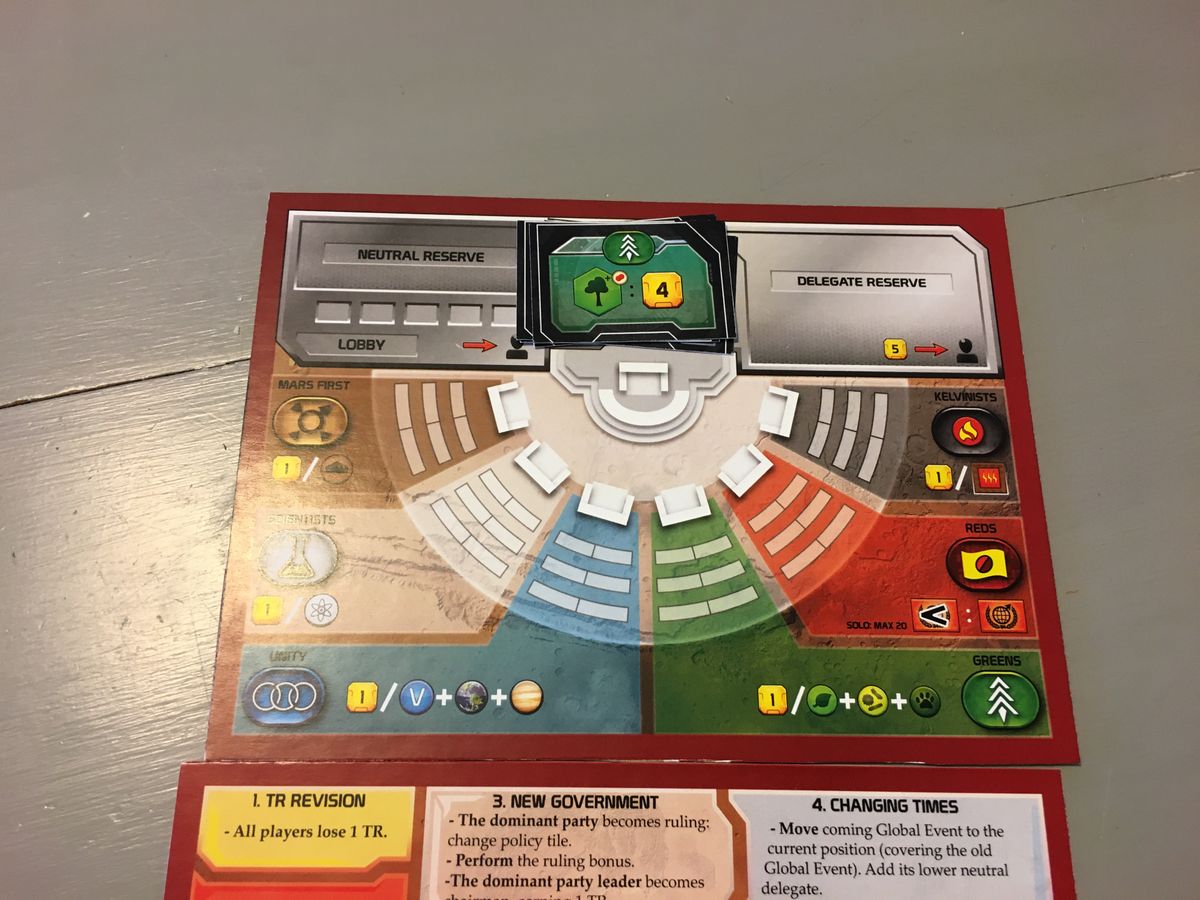 Of course, there are loads more to this part of the expansion than this, but let's not spoil it all, shall we?
Global events
Like we have mentioned before, this expansion consists of two modules, where politics is the first, and global events the other. As the name suggests, these events will affect the whole planet, and therefore all players. These events will be drawn from a deck in and placed out face up so you will know what is coming 3 generations before the event is activated. Some events will affect the players in a negative manner, and some will give them boosts to the production of certain resources, etc. Some events will interact with politics as well. INTERESTING!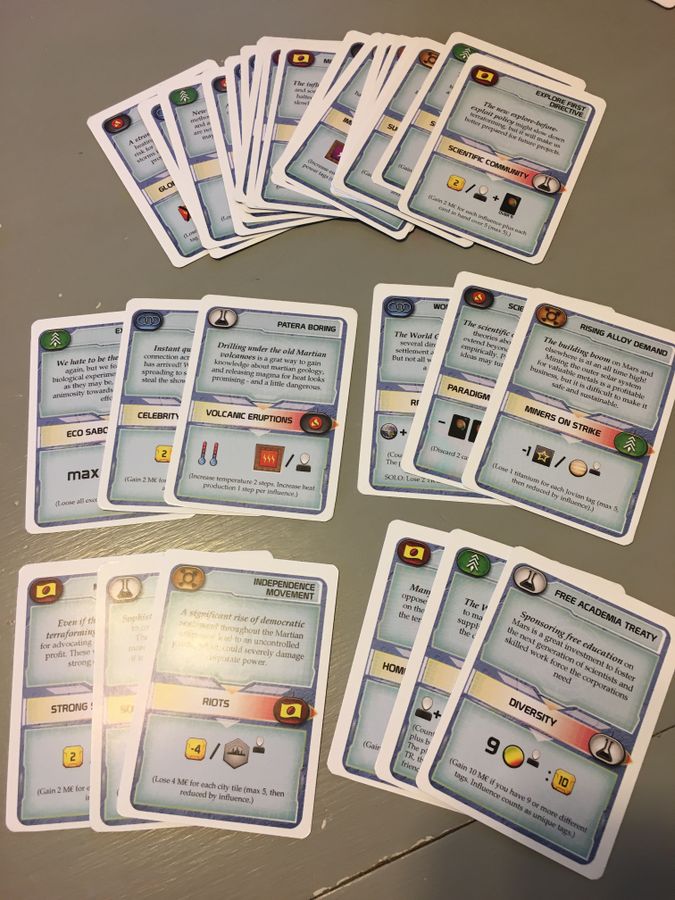 Playing with the Terraforming: Turmoil modules will add no more than 5 minutes of playing time per player.
The Kickstarter is now complete. Link removed, check out our Terraforming Mars review instead :)
While you are waiting, pick our favorite expansions Colonies here, and Prelude here. Turmoil is now released, but how does it compare to the other expansions? Check out our article: The best Terraforming Mars expansions
Terraforming Mars Legacy
A whole new game, based in the Terraforming Mars universe (yes, we said it, the same universe), seems to be in the works and is projected to be released some time 2020. According to Stronghold, Rob Devaiu, the co-designer of Pandemic Legacy games, Risk Legacy and Seafall, is working on the game.
Needless to say, Terraforming Mars Legacy is destined to be a great game, if you are a fan of the genre.
The expansion is out (Should be about 25 dollars / 20 euros)