Villainous: Evil Comes Prepared
Villainous is getting yet another standalone expansion.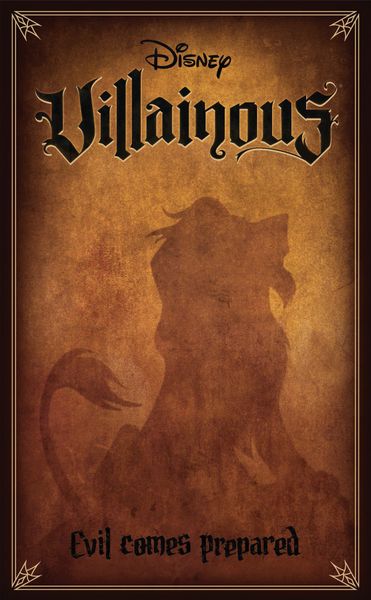 Posted 19 July 2019 by Jay Kay
Another Villainous set is hitting the stores in the coming days, and it's called Evil Comes Prepared. It's is playble on it's own for 2-3 players, and also compatible with the base game and Wicked to the Core.
The villians in question are Scar (Lion King), Yzma (The Emperor's New Groove) , and Ratigan (The Great Mouse Detective).
The game will take about 40 minutes to play, and has the same:ish components as Wicked to the Core;
3 Villain Movers
3 Player Boards
3 Villain Decks, each with 30 cards
3 Fate Decks, each with 15 cards
3 Villain Guides
3 Reference Cards
40 Power Tokens
1 Fate Token
Description from the publisher
In Disney Villainous: Evil Comes Prepared, each player takes control of one of three Disney characters, each one a villain in a different Disney movie, specifically Scar from The Lion King, Yzma from The Emperor's New Groove, and Ratigan from The Great Mouse Detective. Each player has their own villain deck, fate deck, player board, and 3D character.
On a turn, the active player moves their character to a different location on their player board, takes one or more of the actions visible on that space (often by playing cards from their hand), then refills their hand to four cards. Cards are allies, items, effects, and conditions. You need to use your cards to fulfill your unique win condition.
One of the actions allows you to choose another player, draw two cards from that player's fate deck, then play one of them on that player's board, covering two of the four action spaces on one of that player's locations. The fate deck contains heroes, items, and effects from that villain's movie, and these cards allow other players to mess with that particular villain.
Disney Villainous: Evil Comes Prepared is playable on its own, and its characters can also face off against those in the Disney Villainous base game from 2018 and the Disney Villainous: Wicked to the Core standalone game in 2019.
The game has yet to be released, but you can pick up the base game here and the first expansion here.