Roll for the Galaxy: Rivalry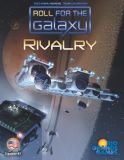 The highly anticipated second expansion for Roll for the Galaxy is being released some time in Mars/April 2019.
MSRP $80, which is 20$ more than the base game, and the designer has commented this like so;
There will be plenty of content; a new die type, new start factions, home worlds, and game tiles, new player screens, all new 10 player dice, a dozen customizable dice with over 200 plug-in die faces in 48 different type, 62 Roll dice in 10 different types, 5 sheets of tiles and markers, 8 sheets for the deal mat, new phase strips, plus wooden disks. Alot of stuff.
We recognize the price is high, especially for an expansion. If we divided it into three separate expansions, then the total would probably be around ~$125, instead of $80, and we wouldn't be able to provide unified Player screens or save some cost on components shared between the Deal and Orb games.
---
Res Arcana, new game by Tom Lehman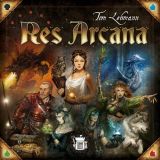 In the four corners of the world, the sky is covered with clouds, the oceans change color, the atmosphere crackles with magic. In the dim light of an alchemical laboratory, on the snowy summit of a sacred mountain, in the depths silent of a corrupt temple, powerful mages prepare for confrontation.
They harvest, handle, and consume the essences that make up the magic of the world to create mysterious artifacts. As they bring out strange creatures from the void, they conquer terrible places of power and invoke gigantic dragons to defeat their opponents!
In Res Arcana, you'll get to do the same...
---