Great Western Trail: Rails to the North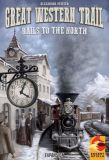 This expansion revolves around a new extension board which contains new cities like Chicago, Detroit, and New York City, amongst others. The new board overlaps the uppermost part of the original board, covering the old ones.
Be advised that business is much more difficult on this rails, so players will want to take advantage of friendly hospitality by establishing branchlets and helping form towns. In addition to the new railway system, players will also discover new station master tiles, private buildings, and an expanded player board to offer more strategic depth in their decision making.
---