James Bond is coming to the Legendary deckbuilding series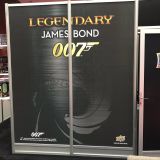 Another franchise has joined the Upper Deck's Legendary deckbuilding series, after other titles like Aliens, Firefly and Big trouble in little China.
---
Marvel Legendary: Venom coming in February 2019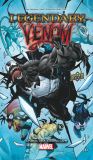 The expansion in a nutshell:
NOT related to the recent Venom movie. (You know the sucky one with Tom Hardy)
Small expansion with 100 cards.
5 new heroes, Carnage, Venom Rocket (Racoon), Venom, Venompool, and Venomized Dr. Strange.
2 masterminds, Poison Thanos and Hybrid.
2 new villian groups; Life foundations and Poisons.
4 new schemes
Return of the Excessive Violence keyword, and some brand new mechanics, like;
Digest and Indigestion. Bad guys gets Symbiotic Bounds. Read more below.
Will NOT be released in February, March/April more likely.
Last updated 2019-03-08
---