Marvel Legendary: Revelations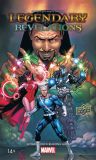 Another expansion for the successfull Marvel: Legendary series is coming out in August. This time, we will have heroes like Scarlet Witch, Quicksilver and War Machine joining our ranks to battle the mastermind The Hood, among others. The set will also feature the Mandarin, which looks like a really cool Mastermind with some fresh ideas. When it comes to villain groups, the set will feature cool villains like the Dark Avengers.
---
Puerto Rico Expansions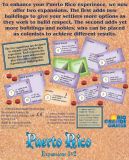 Rio Grande games are releaseing two expansions for Puerto Rico! This is clearly a new direction Rio Grande is taking, ressurecting old games instead of spamming out Dominion expansions (perhaps we have finally seen the last one).
The expansions are The new buildings and The Nobles, both which has been released before, in 2004 and 2009 respectively.
---