Wingspan Oceania Expansion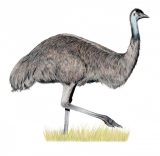 Stonemaier Games has announced another expansion for their success story, Wingspan. The expansion will take us to Oceania, like the name suggests, with species found in Australia and New Zealand, among others.
It has also been confirmed that this expansion will be compatible with Wingspan: Europe, or just the base game.
The same team that made the base game will also be designing this one and will be out sometime 2020.
Not much more is known right now, we will keep you posted though :)
---