Fields of Green: Grand Fair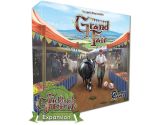 The next expansion for Artipia Games "Fields of Green" is to be released soon, out sometime in the spring 2019, probably February or March.
Description from the publisher:
"Grand Fair introduces the Grand Fair Attractions, letting players interact with the fair in many ways.
It includes additional locations, objectives, components for a fifth player, and rules+material for solo play"
---
Terraforming Mars Colonies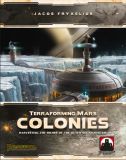 Just in case you have missed it, another expansion for the excellent board game Terraforming Mars, is out now in a store near you. Go pick it up already.
Below there is more information, and also a tutorial video.
---