Marvel Legendary: Venom coming in February 2019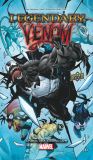 The expansion in a nutshell:
NOT related to the recent Venom movie. (You know the sucky one with Tom Hardy)
Small expansion with 100 cards.
5 new heroes, Carnage, Venom Rocket (Racoon), Venom, Venompool, and Venomized Dr. Strange.
2 masterminds, Poison Thanos and Hybrid.
2 new villian groups; Life foundations and Poisons.
4 new schemes
Return of the Excessive Violence keyword, and some brand new mechanics, like;
Digest and Indigestion. Bad guys gets Symbiotic Bounds. Read more below.
Will NOT be released in February, March/April more likely.
Last updated 2019-03-08
---