Food Chain Magnate: The Ketchup Mechanism & Other Ideas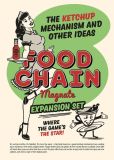 Splotter games are as developing an Food Chain Magnate expansion as we speak, called The Ketchup Mechanism & Other Ideas. The expansion will be avaible some time during 2019 and is avaible on pre-order from Splotters website. Splotter claim "the expansion is in good shape", but it is till being tested and balanced out.
---
Puerto Rico Expansions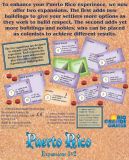 Rio Grande games are releaseing two expansions for Puerto Rico! This is clearly a new direction Rio Grande is taking, ressurecting old games instead of spamming out Dominion expansions (perhaps we have finally seen the last one).
The expansions are The new buildings and The Nobles, both which has been released before, in 2004 and 2009 respectively.
---
7 Wonders: Armada review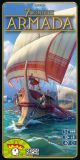 Check our review of the new expansion to 7 wonders, Armada. You can find it in the review section. The review assumes you have played 7w before.
For you who might have stumbled in here without knowing what 7w is, we can tell you this much; It's not Risk, it's not Clue, it's certainly not Monopoly. 7 wonders is actually a game worth playing.
It's a cardgame that plays for about 30 minutes, even with 7 players, and at the same time has alot of deph. It's simply amazing, so do yourself a favour and go buy it.
---