Res Arcana, new game by Tom Lehman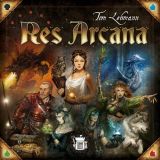 In the four corners of the world, the sky is covered with clouds, the oceans change color, the atmosphere crackles with magic. In the dim light of an alchemical laboratory, on the snowy summit of a sacred mountain, in the depths silent of a corrupt temple, powerful mages prepare for confrontation.
They harvest, handle, and consume the essences that make up the magic of the world to create mysterious artifacts. As they bring out strange creatures from the void, they conquer terrible places of power and invoke gigantic dragons to defeat their opponents!
In Res Arcana, you'll get to do the same...
---
Narcos the Boardgame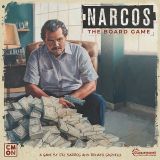 The drug war is in full swing in Colombia, and the man who controls the biggest operation is known as the Patrón. His enemies are numerous, and they'll stop at nothing to bring his empire to its knees.
He will have to avoid his would-be captors, as he moves from one Location to the next, using his many properties as hideouts in a high stakes game of cat and mouse.
In Narcos: The Board Game, based on the Netflix original show, one player takes on the role of the Patrón, while the others become the Factions forming a tense alliance in their search for the cartel kingpin. Unfortunately for the Patrón, his Sicarios leave behind clues to his Location, allowing the Factions to close the net. Are the Patrón's days numbered, or will he find a way to escape his pursuers?
---